Shop Detail
Description
These ultra-fast electric pruning shears make intense pruning sessions a walk in the park, or vineyard, or orchard… From agriculture to horticulture to nurseries, the precision and power of the FELCO 802 will let you simply cut through branches up to 30mm / 1.2inches. The lightweight, ergonomic design and balance will ensure your muscles are left unstrained after a long pruning session.
Plug in and power up your FELCO 882 Power Pack and FELCO Lithium-Ion battery to unleash effortless clean cutting over a full day of intensive pruning. With a simple double click of the trigger you can choose between a larger or smaller cutting head opening setting to cut more efficiently and quickly through larger or smaller branches.
Understanding the performance of the FELCO 802 is as simple as reviewing the FELCO application on the display of your smart phone or tablet, the application contains all the data about your tool from number of cuts to battery life, it also allows you to manage tool settings so you can keep it operating at the highest level of efficiency.
SELECT YOUR PART
820/1

Blade

820/2

Counter blade
Technical specifications
The lightweight FELCO 802 electric pruning shears deliver performance that makes quick work of intense of pruning jobs

The ergonomic, compact design provides a comfortable grip that makes the tool exceptionally well-balanced in your hand

Cut capacity of 30mm / 1.2inches means you will easily take-on everyday pruning with confidence
The on/off switch is conveniently located at the tool base on the power cord for easy access
The FELCO application on your smart phone or tablet displays key tool data such as: battery power level, number and size of cuts made, and allows you to customize tool settings to optimize your working efficiency
Comfortable and safe operation with the soft touch, non-slip, phthalate-free handpiece covers
Progressive trigger operating provides for perfect control over the blade closing which ensures high precision and maximum safety as you cut

The semi-opening operating mode allows you to cut faster which

saves you precious time and battery life while pruning branches with smaller diameters
The electronic blade adjustment system ensures ideal blade crossing to get the most out of your blade life
Maintenance of the cutting head is simple. Lubricate the recess between the blade and the counter blade via the grease bolt using the supplied grease pump, eliminating the need to take the

cutting head apart

Two interchangeable and easily mounted cutting heads make the FELCO 802 even more effective and flexible. The 800F fine cutting head

provides a 20mm cutting capacity

for fine, precision cutting. Whereas, the 800M cutting head is ideal for efficient trimming of the hooves of sheep and goats

Red handpiece covers underlines our heritage while acting as a convenient beacon, so you can always find your FELCO tool in any environment
A high-efficiency brushless motor gives you exceptional cutting speed and reliability, so you remain confident regardless of the number of pruning tasks that lie ahead
All spare parts are available to ensure optimal working condition and extend the life of your tool
Made in Switzerland using 100% renewable energy
Product benefits
Electric pruning shears for right-handed users. Also available in model for left-handed users – the FELCO 802G
FELCO XPRO Blade made from HSS (high speed steel) with a unique design ensures a long-lasting cutting edge and extended life
FELCO counter blade in hardened steel using unique FELCO know-how

Extremely lightweight at 750g / 1.6lbs

Cut capacity of 30mm / 1.2inches
Compact in hand at a length of 255mm / 10inches
On/off control conveniently located at base of the tool directly on the power cord
Semi-opening mode with multiple positions, modifiable via the FELCO application for smart phone and tablets
Pruning statistics available via the FELCO application for smart phone and tablets
Soft touch, slip reducing outer covers made from phthalate free material
Progressive trigger operation
Easy blade crossing adjustment using the trigger
Spare parts available for all components
Made in Switzerland using 100% renewable energy
Compatible products with FELCO 820-HP
Product & Maintenance Tips
Sharpening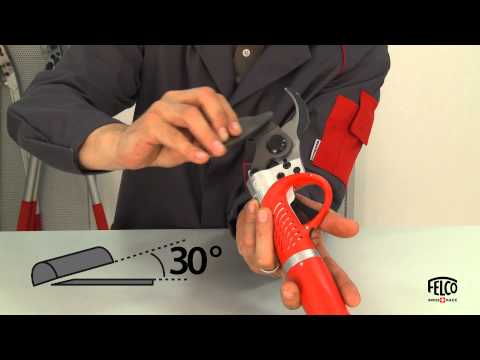 It is advisable to sharpen your tool at least once a day, but if you feel that your tool is not cutting as well as usual, sharpen it right away!
Cleaning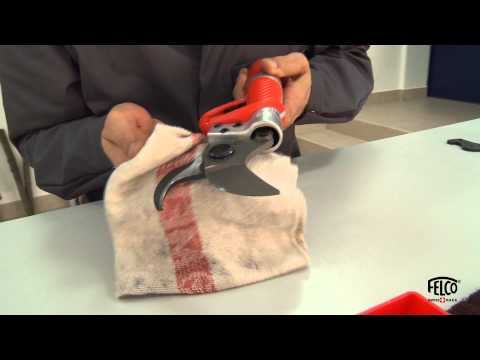 It is advisable to clean your tool after each use. If your tool is particularly dirty or subject to rusting after exposure to moisture, do not delay cleaning.
Download our documentations