Shop Detail
Description
Sheep and goats… Your job is to cut their hooves; theirs is to resist and make your job as difficult as possible. With the FELCO 51 hoof clippers at least you can rely totally upon the very best tool for your side of the bargain. Ergonomic might not be a term that any of your livestock will understand, but you will enjoy the exceptional comfort of these shears that are based on the enduring FELCO 8 model. An angled cutting head, along with the handle shape - which specifically optimises the force you are able to apply - delivers a precise clean cut that will quickly prove successful with even the most stubborn animal; while the XYLAN® coating on the blades keeps the tool cleaner and cuts the risk of infection. The FELCO 51 hoof clippers are designed to deal with the most challenging cutting tasks – and equally difficult sheep and goats.
SELECT YOUR PART
2/92

Kit: complete thumb catch assembly with plate, shock absorber

2/93

Shock absorber assembly

7/90

Kit: bolt and nut

7/94

Kit: bolt/nut

50/11

Nickel plated spring

50/4

Counter blade

2/9

Toothed nut

2/12

Thumb catch

2/13

Thumb catch spring washer

2/14

Thumb catch screw

2/15

Base plate

2/18

Bumper

2/19

Crimped ring

2/20

Shock absorber

6/35

Blade handle grip

7/5B

Blade rivet

7/6

Counter blade screw

7/7

Screw for toothed segment

7/8

Bolt

7/10

Bushing

7/36

Counter blade handle grip

51/1

Complete handle assembly without blade

2/16

Toothed segment

7/2

Complete handle assembly without counter blade

2/30

Adjustment key
Kit: complete thumb catch assembly with plate, shock absorber
1x 2/15 + 1x 2/18 + 1x 2/14 + 1x 2/12 + 1x 2/13 + 1x 2/20
Technical specifications
Shears for clipping the hooves of sheep and goats
XYLAN® coated blade and companion blade
Tool for right-handed pruning
Bypass pruning shears
Handles in forged aluminium with lifetime guarantee
Blade and counter blade constructed of hardened steel
Screw-mounted counter blade for easy replacement
Toothed nut for easy adjustment of cutting head
Tool adjustment key included for cutting head and closing lock adjustment
Phthalate-free non-slip handle coating*
All parts replaceable**
Version available with revolving handle - FELCO 50
* Phthalates are known to be potential endocrine disruptors. FELCO has been producing phthalate-free products since 2015
** See inside packaging card or on specific product page on www.felco.com
Product benefits
The XYLAN® coated blade and counter blade keep the tool cleaner and protect against the transfer of infection
Lightweight forged aluminium handles with a lifetime guarantee provide for efficient handling no matter the location
A robust and rugged high performance tool with a design that makes it easy to deal comfortably with heavy-duty tasks
The angled head integrates the tool's function with your hand for a comfortable cutting action that becomes second nature
Rely on FELCO proprietary heat treating and hardening know-how to provide you with a long lasting ultra-sharp cutting edge
Enjoy comfortable and safe cutting with the ergonomic cushioned grips and non-slip phthalate-free handle coating*
Easily adjust the cutting head for a clean and precise cut you can rely on
The adjustable closing lock makes for safe pick up and transit around livestock
Keep cutting for longer as rubber shock absorbers increase your handling comfort and reduce fatigue
The quick and easy blade change is safe, secure and ensures you can always get on with the job
Red handles underline our heritage while acting as a convenient beacon, so you can always find your FELCO tool in any environment
Their manufacture in Switzerland using renewable energy makes them a powerful advocate of our philosophy of harmony of use, while in harmony with nature
If you value sustainability as much as we do, you'll want to keep your FELCO 51 hoof clippers in premium condition and minimise waste in using a tool where all parts - from the blade and spring to the smallest screw - are replaceable
*Phthalates are known to be potential endocrine disruptors, FELCO has been producing phthalate-free products since 2015
Compatible products with FELCO 51
Product & Maintenance Tips
Changing the anvil-blade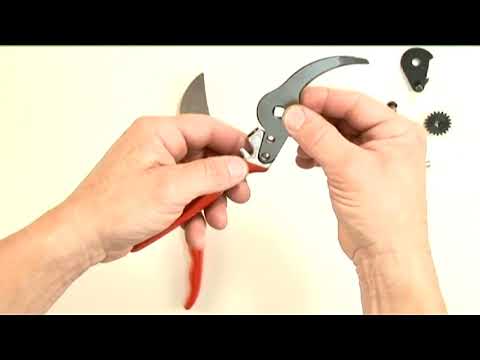 When the blade and anvil-blade no longer cross and the anvil-blade is badly damaged, it is advisable to change it.