Shop Detail
Description
The revolving handle might not be the first feature that you will notice on these light and compact high performance shears /secateur. However, one thing is for certain, your wrists will immediately begin to feel the difference in comfort provided by the innovative design of the FELCO 17 – enhanced by rubber shock absorbers – which spares the effort you require to cut by 30%. We could highlight how the ergonomic benefits also reduce fatigue, so that you will be able to enjoy the effective reach between branches and the outstanding precision from the smaller, easily adjusted cutting head - that much longer. We are proud, with good reason, of our highly responsive design process - which is evident with this sturdy, powerful all-purpose pruner for the left hander with smaller hands. However, we are only truly happy with our efforts once you start using this FELCO tool and pay us the ultimate compliment of taking all these exceptional features for granted.
SELECT YOUR PART
2/93

Shock absorber assembly

6/90

Kit: bolt and nut

6/91

Kit: 2 springs

6/94

Kit: bolt/nut

2/5B

Blade rivet

2/9

Toothed nut

2/10

Bushing

2/13

Thumb catch spring washer

2/14

Thumb catch screw

2/16

Toothed segment

2/18

Bumper

2/19

Crimped ring

2/20

Shock absorber

6/6

Counter blade screw

6/7

Screw for toothed segment

6/8

Bolt

6/11

Nickel plated spring

7/23

Rotating handle axel

9/12

Thumb catch

9/15

Base plate

10/22B

Rotating handle

16/3

Blade

16/4

Counter blade with screw

17/1

Complete handle assembly without blade

17/2

Complete handle assembly without counter blade

17/36

Counter blade handle grip

2/30

Adjustment key
Shock absorber assembly
4x 2/18 + 6x 2/20
Technical specifications
Designed for left-handed pruning
The universal design makes the tool suitable for both small and large hands. A right-handed model is also available (FELCO 12)
Bypass pruning shears / secateurs
Handles in forged aluminium with lifetime guarantee
Angled cutting head
Blade and counter blade constructed of hardened steel
Screw-mounted counter blade for easy replacement
Blade with wire cutting notch
Counter blade with sap groove
Locking segment nut for easy adjustment of cutting head
Tool adjustment key included for cutting head and closing lock adjustment
Phthalate-free non-slip handle grips*
All parts replaceable**
Made in Switzerland using 100% renewable energy
* Phthalates are known to be potential endocrine disruptors. FELCO has been producing phthalate-free products since 2015
** See inside packaging card or on specific product page on www.felco.com
Product benefits
A revolving handle spreads the pruning effort required, reducing the cutting force required to protect your joints and muscles

Lightweight construction provides for efficient handling no matter the location or task
The small cutting head enables easy access and greater reach to make pruning branches safe and efficient
Precision pruning and tip cutting makes the FELCO 17 ideal for the fine detail and ensures you get the job done first time
The one piece forged aluminium handle ensures your FELCO tool is robust enough for heavy-duty pruning
The angled head integrates the tool's function with your hand for a comfortable cutting action that becomes second nature
Rely on FELCO proprietary heat treating and hardening know-how to provide you with a long lasting ultra-sharp cutting edge
The compact design efficiently distributes the cutting power for a high performance that you can rely on in every situation
Enjoy comfortable and safe pruning with the ergonomic cushioned, non-slip, phthalate-free handle grips*
The sap groove prevents the blade from sticking and improves cutting efficiency
The wire cutting notch in the blade provides for every eventuality and avoids the temptation to risk blunting your tool
Easily adjust the cutting head for a clean and precise cut that promotes quick healing of the pruning wound
The adjustable closing lock makes for safe pick up and transit wherever your pruning takes you
Keep cutting for longer as rubber shock absorbers increase your handling comfort and reduce fatigue
The quick and easy blade change is safe, secure and ensures you can always get on with the job
If you value sustainability as much as we do, you'll want to keep your FELCO in premium condition and minimise waste in using a tool where key parts - from the blade and spring to the smallest screw - are replaceable
Red handles underline our Swiss heritage while acting as a convenient beacon, so you can always find your FELCO tool in any environment
Made in Switzerland using 100% renewable energy
*Phthalates are known to be potential endocrine disruptors, FELCO has been producing phthalate-free products since 2015
Compatible products with FELCO 17
Product & Maintenance Tips
Cleaning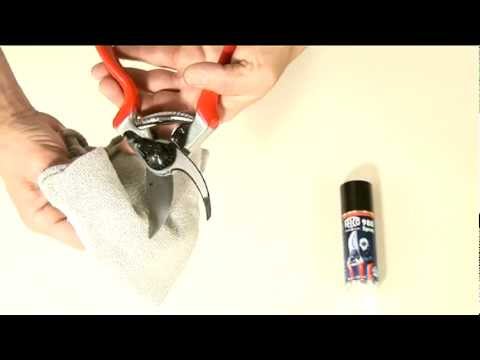 It is advisable to clean your tool after each use. If your tool is particularly dirty or subject to rusting after exposure to moisture, do not delay cleaning.
Oiling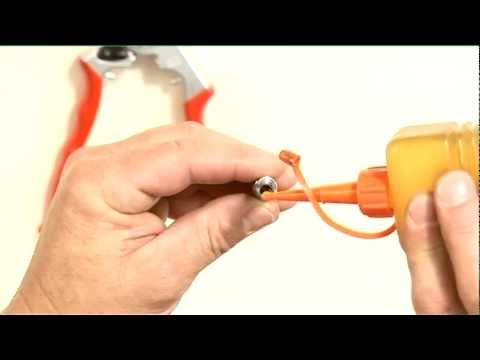 After cleaning, it is advisable to oil the tool so as to protect it from corrosion. The oil will also unjam the tool.
Sharpening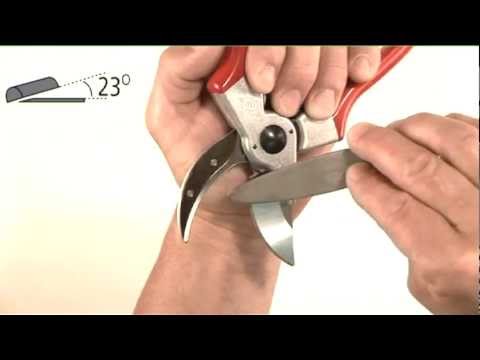 It is advisable to sharpen your tool at least once a day, but if you feel that your tool is not cutting as well as usual, sharpen it right away!
Dismantling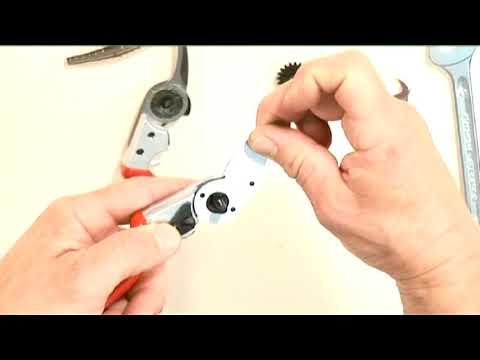 It is advisable to dismantle your tool on a regular basis, but at the very latest when it appears to be jammed.
Changing the anvil-blade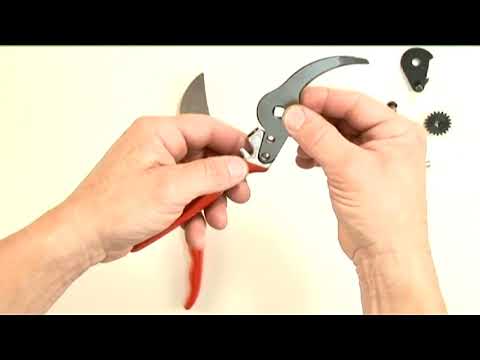 When the blade and anvil-blade no longer cross and the anvil-blade is badly damaged, it is advisable to change it.
Changing the blade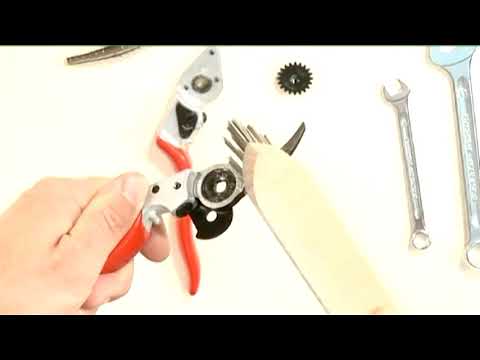 When the blade and the anvil-blade no longer cross, or when the blade is badly damaged, it is advisable to change it. Regulate the working of the blade and anvil-blade by adjusting the tightening of the nut. The blade should rub against the anvil-blade o
Dismantling the revolving handle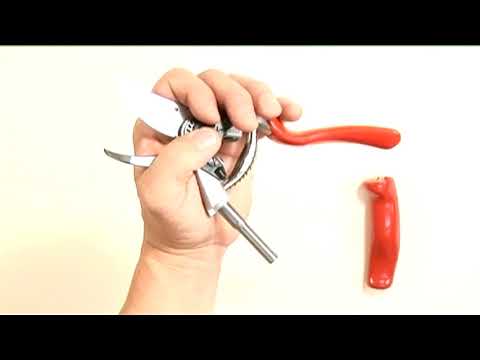 It is advisable to dismantle the revolving handle on a regular basis, so that it does not become jammed.
Changing the shock absorber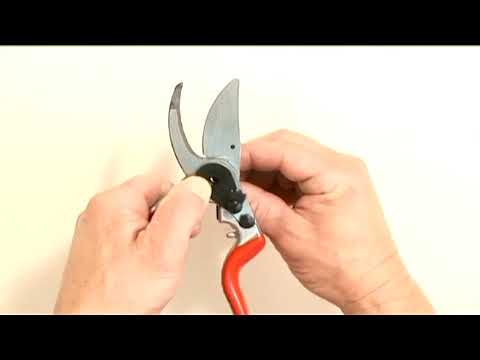 When the tool closes too abruptly during pruning, and the cushion is in good condition, the shock absorber should be changed.
Changing the thumb catch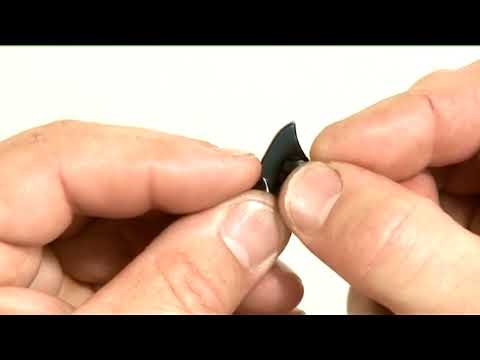 When the thumb catch is damaged and loosens when used, even when the screw is readjusted, change it.
Changing the plastic coatings for handles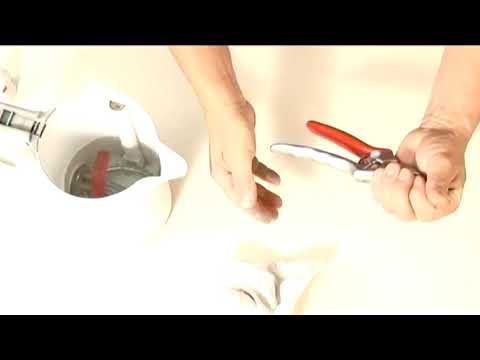 If the coatings are badly damaged, you can replace them. Soak the coatings for 2 minutes in boiling water - recommended glue: Loctite 415.
Download our documentations